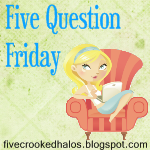 1.
What was the first car you owned?
My first car was short lived, it was a 87' Chevy Blazer. I got it in the beginning of 2000 and it got stolen in August of the same year. It was beyond being able to repair, so I got an 94' Chevy Cavalier. I ran that thing until it basically died around 130K miles.

2. What song are you embarrassed to know the lyrics to?
Um. Erm. Who Let the Dogs Out? *blush*

3. Have you ever had stitches?
Yep. When I was 5, I was racing my brother down my grandma's road, which happened to be all dirt. I tripped and fell and broke open my knee. I'm still traumatized by having to go to the hospital and being held down by the orderlies.

The 2nd time was when I had Olivia. Yup. I didn't need to be held down this time because I had the wonderful epidural. :D


4. What was your first job?
I worked in the food area of K-Mart. They don't have them anymore, but it was a horrible job having to cook food and wait on old people. I only lasted 2 months before I quit.

5. Who is your favorite Sesame Street character?
Ernie. He's just so friendly and he loves his rubber ducky. Burt is so mean to him sometimes. :P