Which means, its time for Toddle Along Tuesday! Hop on over to Growing Up Geeky and link up if you've got a mommy or pregnancy blog!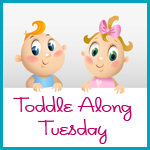 As for us, we had an enjoyable evening out at Wildwood Highlands. I love that Olivia is getting old enough to do a lot more things now. She played in the indoor gym with Grandpap and Daddy. Russ said she went all the way to the top, which is a first for her. They have outdoor kiddie rides, so she got to ride the Merry Go Round and the choo choo train. Russ and I took a spin on the Go-Karts. Alex took a nap at the end. :)
Seriously.. how cute are these 2 girls?